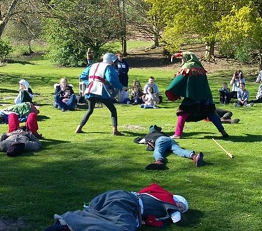 A great start to the season at Beeston, with 1500 people coming to visit us over the weekend for a celebration of Saint George. With great weather over the weekend the many of the crowds stayed all day at the event, to see our full range of activities. Dean lead our drill display, which was very sharp for so early in the season, and commentated for the for the first time by Paul. Medieval games where as competitive as every with a ranger of different winners throughout the weekend (Ellie on bucker ball, John and Rory on hat fencing, Dean and Mark on Ass kicking). We moved Archery and Firepower further down the slope than usual to where the crowd has naturally congregated, this did mean that the archers missed a little more than normal on the Saturday (as we left the boss in its usually position), and we added a Kyle and his crossbow (with hastily made quarrels) to this display.

We kept just to the Saint George and the dragon mumming play, (in keeping with the theme for the weekend) but adlibbed and expanded on it more than normal to fill the timeslot, and it seemed to be enjoyed by the public. We also added a dancing set within the last music session of the day and roped most of the public on site to join in, with the peas, hermits and clog brawls.

Supported by Childrens sword and drill sessions from Tom Arnold Frost of Griffin Historic and the Musicians of Dragons Breath, we also ran a full living history camp, with the Cooks demonstrating the skills in pewter badge making, Kyle making "historic cheese", Fran making baskets along with other crafts, surgery, etc. Graham stepped up to lead the food for the first time on the Saturday (Jenni leading on the Sunday). Thanks for everyone who participated, for making this a great weekend, next show will Richmond Castle spring bank holiday weekend.